Best House Cleaning Services in Savannah, GA!
Hands Down, Savannah's Favorite Cleaning Service!
Sparkling Queens, proudly delivers top-notch cleaning services to the Savannah community.  When you're ready to rid yourself of the never-ending chore of cleaning your house, Sparkling Queens is the top pick for Savannah residents.
We offer a variety of residential and commercial cleaning services, including recurring maid services (weekly, biweekly, or monthly), one-time deep cleanings, move-in/out cleanings, and office cleaning.
Ready to take back your weekends?  Just give us a ring because we're here to help your keep your home sparkling clean and make your life easier!
Our Savannah Cleaning Services
Sparkling Queens loves serving our Savannah customers. We'll get your home meticulously clean and keep it clean.
Why Choose Sparkling Queens To Clean Your Home?
Trusting people in your home is a big deal! Sparkling Queens goes through an extensive process to ensure you and your family are safe, secure, and protected.  Independent cleaners will always be less expensive than a professional cleaning service, but they will never be able to check the important boxes below. We can!
Very thankful for Nikita and Deborah's help cleaning our home. They did an excellent job deep cleaning!
My experiences have been amazing! Amanda does a fabulous job and we are so happy to have her!
We were extremely pleased with the professionalism of this business. From start to finish everything was spot on. The price was excellent and the cleaning was outstanding. They paid special attention to details that I didn't even know needed to be cleaned or could be. Making our moving experience extremely less stressful. Definitely recommend them to friends and family! Thank you thank you thank you!
This was the first time we've had our house deep cleaned professionally and Miss Nancy did a WONDERFUL job. Every room is spotless and smells fantastic. I highly recommend their services 🙂
I was SO pleased with my deep clean by Sparkling Queens Cleaning! Melody, Valerie and Brianna were extremely thorough, respectful of my space and paid close attention to detail on every inch of my home. I have pets and they were careful not to disrupt them. They took care not to damage any of my things and cleaned quickly and efficiently! They were extremely professional throughout the whole clean. I can't wait for them to come back for my recurring cleans!
Nancy cleaned our house through sparkling queens and she did a wonderful job. I cannot describe what a relief it was to come home to a pristine house when I have 2 small kids to keep up with. She was careful to take note of everything I mentioned to her (special spots needing extra care, places where things needed to go back, etc) and she was super timely! Sparkling Queens worked with our schedule and were able to get us in right away! I would definitely use them again!
Nancy Garza from sparkling queens did such an amazing job!!! She was so thorough and spent a lot of energy and time cleaning out house. She was so sweet also & I totally recommend her!!
Sharon Harrington
02/08/2021
Nancy came out clean and did a excellent job in my home. I would ask for her again for service. Thanks Sharon Harrington
Why Savannah Residents Love Sparkling Queens
We're Savannah's Top-Rated Cleaning Service
At Sparkling Queens we take great pride in doing a great job for our Savannah cleaning service clients. As a locally-owned small business, we know that our reputation for quality and customer service is what makes us thrive. So that's exactly what we strive daily to accomplish!
Quality Cleaning Services
Every great company has to deliver quality services. Our ability to do great work starts with great hiring and training. We are extremely picky about the individuals we hire because we know our employees represent our company day in and day out.  Therefore we take the time to thoroughly background check potential employees to make sure they are upstanding and trustworthy people. Once hired, we take the time to provide the training required to do great work for our clients.
Unbeatable Customer Service
We believe in good, old-fashioned southern customer service! We're a family-owned company and we treat our clients like valued members of our Sparkling Queens family. All of our Savannah cleaning service clients are guaranteed to be treated warmly by our cleaning and office staff in every interaction.
Request Your FREE Quote Today and come home to spotless tomorrow!
If you're ready for a sparkling clean house, we have cleaners available right now! Just give us a call and we'll get you a quote and book your cleaning.
Ready To Hand Over The Cleaning Chores?
When We Clean, You'll Have Time to Enjoy the Beautiful City of Savannah!
Savannah is an amazing city full of southern charm and lots of history.  When you decide to let Sparkling Queens clean your house, you and your family will have spare time to get out and explore this charming city.
Forsyth Park is one of our favorite spots to get outdoors and enjoy some fresh air.  It's located in the Savannah historic district and is ideal for family gatherings.
Want a more guided approach?  Try Old Town Trolly Tours or Old Savannah Tours.  Get out and play tourist for a day and we bet you will learn interesting things you didn't know about Savannah.
Another must-see area is River Street.  The old cobblestone streets run through historic buildings.
Lastly, don't miss spending the day at Tybee Island for some sun and fun.  Tybee Island sports 3 miles of beautiful beaches.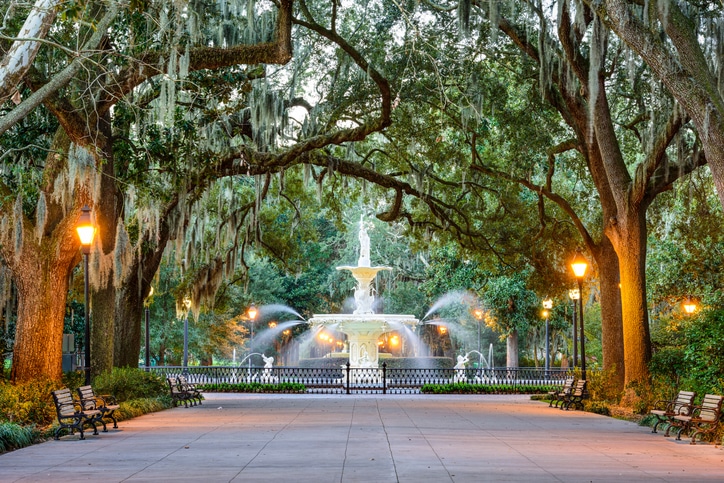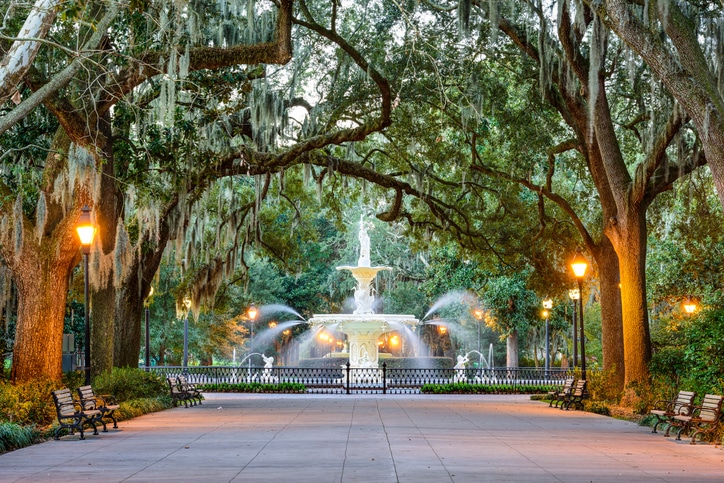 Best House Cleaning Service in Savannah! Call Now For Your Free Home Cleaning Quote.
Sparkling Queens is based in Richmond Hills and services Savannah, Georgetown, Fort Stewart, and surrounding areas.
Are You Ready For a Spotless House?
Request Your FREE Quote Now!