Best House Cleaning Services in Savannah, GA!
Hands Down, Savannah's Favorite Cleaning Service!
Sparkling Queens, proudly delivers top-notch cleaning services to the Savannah community.  When you're ready to rid yourself of the never-ending chore of cleaning your house, Sparkling Queens is the top pick for Savannah residents.
We offer a variety of residential and commercial cleaning services, including recurring maid services (weekly, biweekly, or monthly), one-time deep cleanings, move-in/out cleanings, and office cleaning.
Ready to take back your weekends?  Just give us a ring because we're here to help your keep your home sparkling clean and make your life easier!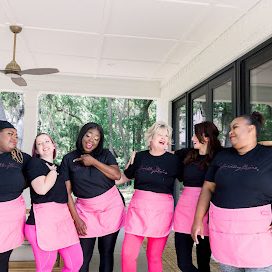 Our Savannah Cleaning Services
Sparkling Queens loves serving our Savannah customers. We'll get your home meticulously clean and keep it clean.
Why Choose Sparkling Queens To Clean Your Home?
Trusting people in your home is a big deal! Sparkling Queens goes through an extensive process to ensure you and your family are safe, secure, and protected.  Independent cleaners will always be less expensive than a professional cleaning service, but they will never be able to check the important boxes below. We can!
Richard Thomas
October 31, 2022.
Andrea and Theresa were absolutely amazing! I feel the truly went above and beyond. They will be doing our recurring weekly cleaning!
Thursdays are my favorite days. Judi is amazing!! She is always on time, extremely thorough, kind, and leaves my house looking its best.
Theresa and Judi were great. Super happy.
Andrea S.
October 28, 2022.
Nancy is absolutely wonderful! She does a fantastic job cleaning our home, is delightful, and incredibly trustworthy. I highly recommend her and Sparkling Queens Cleaning Service!!!
Kristin Schultz-Powell
October 27, 2022.
Brooke and Christine did ALOT in 4 (ish) hours! I am super impressed with their attention to detail, and I am a cleaning perfectionist! It was money well spent!
Amber Jasso
October 27, 2022.
I hired Sparkling Queens when life got too busy to keep my house as clean as I want it to be. I had never done anything like this before so I was nervous about opening up my house to someone and our mess. They sent me Theresa and she is AMAZING! She is always on time, professional, friendly and I look forward to seeing her every other week. Best of all…my house feels clean and fresh!
Judi and Jessica both did a fantastic job cleaning. Definitely will continue to use this service!
Lena Hoang
October 22, 2022.
I have never used any cleaning services prior to moving here . But I was recommended by some friends to use this company and wow! What a life saver!!! Who would've thought an extra set of hands to clean will make such a difference! I honestly never thought I would hire someone else to clean for me since I do all my cleaning myself. But I am so glad I did. Judi has been cleaning for me for a few months now And she is just wonderful. She's very personable and you can tell she enjoys what she does. She is always smiling . And that makes a big difference. She represents this company she is the face of this company when encounter with other customers . I have been in my family business for over 20 years now and I know when I meet someone so trustworthy and hardworking! She is definitely an asset to sparkling and I will continue to use them and recommend Judi/them to everyone I know! Thank you Sparkling Queen you guys rock!!! ✨
Catherine Zaic
October 20, 2022.
Nancy was wonderful! Efficient, pleasant, and really great at her job. We'll be a recurring client.
Treves Wilson
October 20, 2022.
Kaitlynn for Sparkling Queens is the best! Very professional and thorough. She really cares and enjoys her job. I would recommend this company and especially Kaitlynn for any cleaning service you need.
Why Savannah Residents Love Sparkling Queens
We're Savannah's Top-Rated Cleaning Service
At Sparkling Queens we take great pride in doing a great job for our Savannah cleaning service clients. As a locally-owned small business, we know that our reputation for quality and customer service is what makes us thrive. So that's exactly what we strive daily to accomplish!
Quality Cleaning Services
Every great company has to deliver quality services. Our ability to do great work starts with great hiring and training. We are extremely picky about the individuals we hire because we know our employees represent our company day in and day out.  Therefore we take the time to thoroughly background check potential employees to make sure they are upstanding and trustworthy people. Once hired, we take the time to provide the training required to do great work for our clients.
Unbeatable Customer Service
We believe in good, old-fashioned southern customer service! We're a family-owned company and we treat our clients like valued members of our Sparkling Queens family. All of our Savannah cleaning service clients are guaranteed to be treated warmly by our cleaning and office staff in every interaction.
Request Your FREE Quote Today and come home to spotless tomorrow!
If you're ready for a sparkling clean house, we have cleaners available right now! Just give us a call and we'll get you a quote and book your cleaning.
Ready To Hand Over The Cleaning Chores?
When We Clean, You'll Have Time to Enjoy the Beautiful City of Savannah!
Savannah is an amazing city full of southern charm and lots of history.  When you decide to let Sparkling Queens clean your house, you and your family will have spare time to get out and explore this charming city.
Forsyth Park is one of our favorite spots to get outdoors and enjoy some fresh air.  It's located in the Savannah historic district and is ideal for family gatherings.
Want a more guided approach?  Try Old Town Trolly Tours or Old Savannah Tours.  Get out and play tourist for a day and we bet you will learn interesting things you didn't know about Savannah.
Another must-see area is River Street.  The old cobblestone streets run through historic buildings.
Lastly, don't miss spending the day at Tybee Island for some sun and fun.  Tybee Island sports 3 miles of beautiful beaches.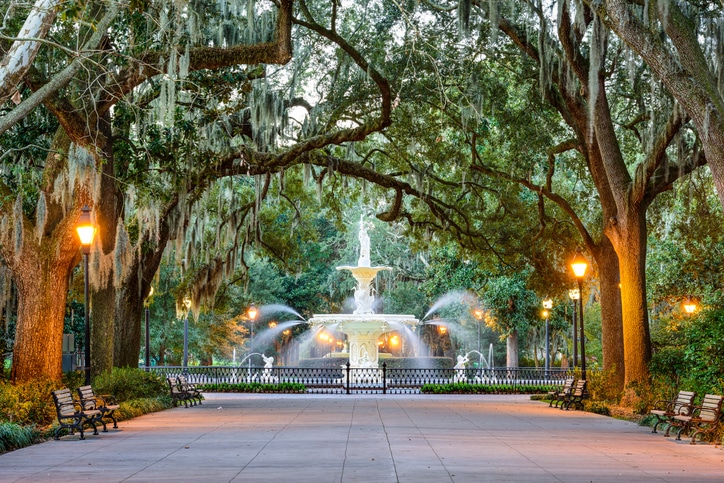 Best House Cleaning Service in Savannah! Call Now For Your Free Home Cleaning Quote.
Sparkling Queens is based in Richmond Hills and services Savannah, Georgetown, Fort Stewart, and surrounding areas.
What Can We Take Off Your Plate?
Request Your FREE Quote Now!