Let the Sparkling Queens keep your home sparkling clean with our recurring cleaning services!  Weekly, biweekly, or monthly service will free you from the never-ending chore of keeping your home tidy and clean.
Weekly, Biweekly & Monthly Recurring Cleaning Service
We offer weekly, bi-weekly, and monthly "Fit for a Queen" recurring cleaning services to keep your home sparkling clean!
These days, life is busy for everyone.  No one has the time to spend all weekend cleaning house.  And, think of all the things you pass up when you do spend precious time cleaning. In today's ultra-busy world, hiring a cleaning service isn't a luxury, it's a necessity!  Call us today to check out our recurring cleaning services and we will provide you with an awesome quote.
Generally, when you start your recurring cleaning services, you will want to begin with our deep cleaning service.
Our Recurring Cleaning Includes:
Whole House:
Dusting

baseboards

Dusting light fixtures, lamps, & ceiling fans (within reach)
Dusting blinds
General dusting
Dusting doors
Dusting windowsills
Cleaning mirrors
Removing cobwebs
Sweeping/vacuuming
Mopping
Bathrooms:
Sanitizing toilets
Cleaning showers & tubs
Spot cleaning cabinet exteriors
Wiping countertop/sink
Kitchen:
Interior & exterior of microwave
Wiping stovetop and range hood
Wiping exterior of appliances
Spot cleaning cabinet exteriors
Wiping countertop/sink
Bedrooms:
Beds made
Change sheets (customer must remove dirty sheets and leave clean sheets at foot of the bed. There is a $10 fee for all beds)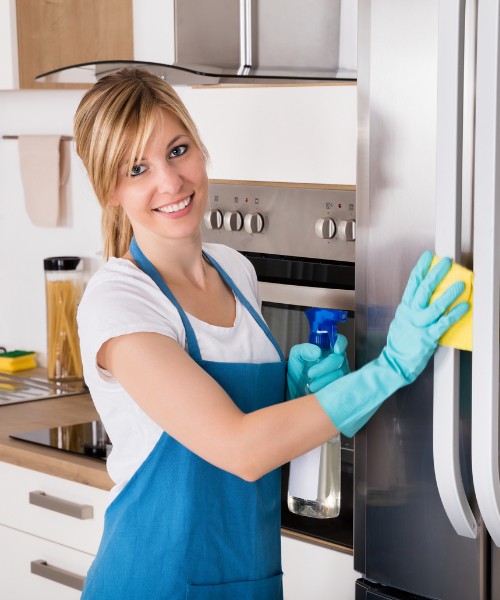 Are You Ready For a Spotless House?